I am really trying to be more organized and focused, including where this blog is concerned. I also follow so many wonderful blogs that I hardly have time to read most of them. Bad Marcia! So, in an effort to be more organized and disciplined in my blogging, I am going to attempt to set a weekly goal of blogging at least 3 times a week. One way to do this, and an excellent way for me to get back in touch with the blogs I follow, is to do a Feature Friday where I will feature this week's family blog, blog pertaining to Biblical studies/Christian character and a featured post. Take a moment or two to check out these great blogs and I hope you enjoy and benefit from them as much as I do!
Without further ado, here is the first installment of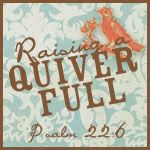 A homeschool mom of five shares her adventures, insights and faith.
Featured Blog on Christian Thought/Doctrine:
Enjoy and have a wonderful weekend!